Training that will last a lifetime!
Basic Obedience Training is the foundation for solving a wide range of behavioral issues.
Your dog will learn to follow commands such as: sit, stay, heel, off, quiet, leave it, and come when called.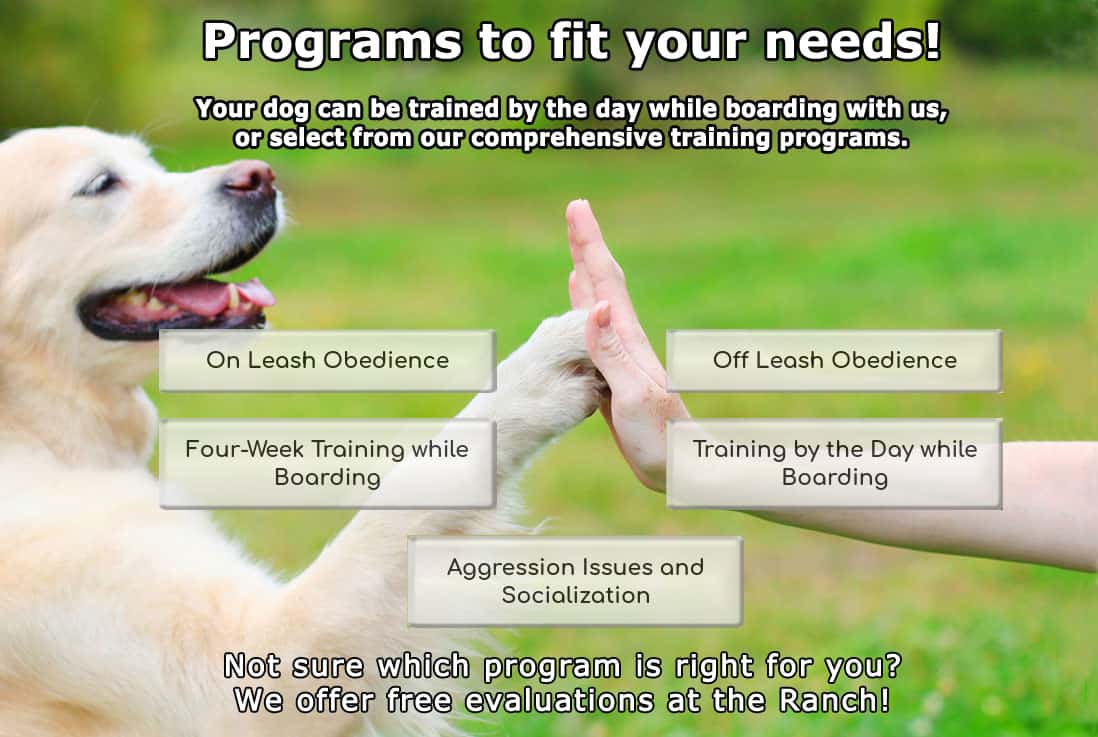 We'll also solve some of those annoying habits your dog may have:
Digging
Begging
Pulling on the leash
Housebreaking
Jumping on people
Incessant barking
Destructive Behavior
Getting into trash
To help you and your puppy get started on the right foot and paw, click the button bellow:
We Guarantee Our Training
Canyon View offers a life-time guarantee on our 4 week on-leash and off-leash obedience programs. If at any time your dog stops responding to sit, lie down, stay, heel, or come when called, we will gladly retrain your dog or provide a refresher lesson at the ranch for free. Our number one goal is to create the kind of relationship between you and your best friend that you always hoped for; one that will last a lifetime.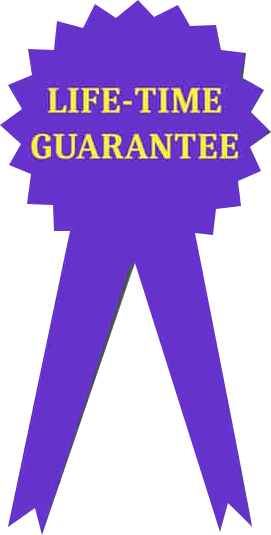 The successful results of our trainers and our programs can be measured by the many letters of appreciation and referrals we receive from our clients. Here are just a few.
"Today, I took my dogs out to potty and I experienced a blissful calm and immediate responsiveness from them that was unprecedented and as close to actual Utopia as I can imagine. I was allowed to feel nothing but love for them and do away with the frustration that used to join us on our treks outdoors. Want an incredible blessing. Best feeling EVER! Canyon View, you are so worth it."
"I can't believe the great dog that Charlie has become. He's no longer afraid of the world and changed into a delightful pet that we will love and enjoy even more."
"We were really skeptical as to whether it was even possible to train an older dog like Missy, but a three-week stay at Canyon View worked wonders."
"Other trainers told me that my rescue dog might never overcome his aggression. With the help and expertise of Canyon View, my dog is now a well-behaved and loving member of my family."
"We brought Bodhi to Canyon View because he was starting to get out of hand, and with our newborn, we desperately needed to gain control. Thank you so much for your dedication to Bodhi. He is a different dog because of you and we are so happy with the results."
"My dog is now more personable and an accepted member of the family at family gatherings rather than the "condemned beast" he used to be before Canyon View Ranch."
"After just a few days under your care, we saw encouraging progress in Carly's manners, but after the full 28 days she spent at Canyon View under your supervision, she's like a different dog. Now, Carly is calm and responsive, whereas before you worked with her, she was uncontrollable and had no attention span."
"Not only am I a satisfied customer having used Canyon View for my own dogs, but more importantly have referred many new "parents" who have success story after success story"
"When I left my dog for a four-week training session, it was as if I was leaving my dog with family and friends. Our experience at Canyon View was a complete success."
"Thank you, thank you, thank you! Olivia is a different, manageable, lovely dog now!!"
"Today, I took my dogs out to potty and I experienced a blissful calm and immediate responsiveness from them that was unprecedented and as close to actual Utopia as I can imagine. I was allowed to feel nothing but love for them and do away with the frustration that used to join us on our treks outdoors. Want an incredible blessing. Best feeling EVER! Canyon View, you are so worth it."
"I can't believe the great dog that Charlie has become. He's no longer afraid of the world and changed into a delightful pet that we will love and enjoy even more."
"We were really skeptical as to whether it was even possible to train an older dog like Missy, but a three-week stay at Canyon View worked wonders."
"Other trainers told me that my rescue dog might never overcome his aggression. With the help and expertise of Canyon View, my dog is now a well-behaved and loving member of my family."
"We brought Bodhi to Canyon View because he was starting to get out of hand, and with our newborn, we desperately needed to gain control. Thank you so much for your dedication to Bodhi. He is a different dog because of you and we are so happy with the results."
"My dog is now more personable and an accepted member of the family at family gatherings rather than the "condemned beast" he used to be before Canyon View Ranch."
"After just a few days under your care, we saw encouraging progress in Carly's manners, but after the full 28 days she spent at Canyon View under your supervision, she's like a different dog. Now, Carly is calm and responsive, whereas before you worked with her, she was uncontrollable and had no attention span."
"Not only am I a satisfied customer having used Canyon View for my own dogs, but more importantly have referred many new "parents" who have success story after success story"
"When I left my dog for a four-week training session, it was as if I was leaving my dog with family and friends. Our experience at Canyon View was a complete success."
"Thank you, thank you, thank you! Olivia is a different, manageable, lovely dog now!!"